CIOCCOLATO
CUSTOM
EVENTS
CONTACT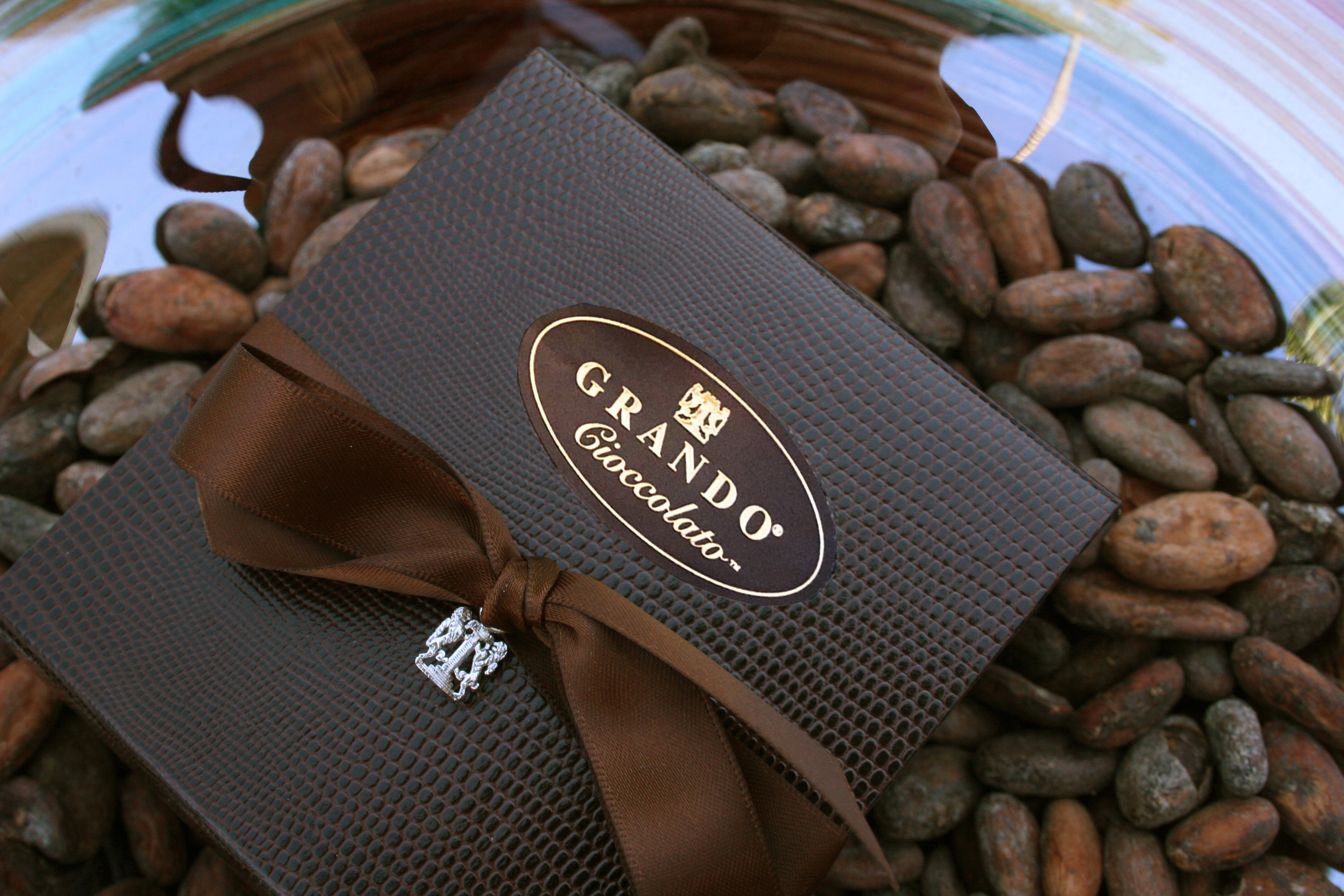 OPEN THE BOX TO REVEAL WHAT IS INSIDE
GRANDO CIOCCOLATO IS ARTISANALLY MADE IN THE U.S.A. WITH ORGANIC INGREDIENTS
HISTORY
HEALTH BENEFITS
FAQ
RECIPES
SHIPPING
TESTIMONIALS
RARE ROYAL ORGANIC CRIOLLO BEANS AND TRINATARIO BEANS FROM THE AMAZON IN SOUTH AMERICA AND THE CARRIBEAN ARE
BLENDED INTO THE FINEST CHOCOLATE LIQUOR IN ITALY.
GRANDO THEN TRANSFORMS THE ITALIAN CHOCOLATE LIQUOR INTO OUR AWARD WINNING ITALIAN FAMILY RECIPES
IN PASADENA CALIFORNIA TO FEED THE HEARTS AND SOULS OF CHOCOLATE CONNOISSEURS.
COMPLIMENTARY STERLING SILVER LION CREST WITH EVERY SIGNATURE GIFT BOX.
Grando's crest originated in Bassano Del Grappa, Italy and it is symbolic of strength through healthy eating and a balanced life.
Nancy Grando, Cioccolataia standing next to a Theobroma Cocoa tree that is a small evergreen tree native to South America and the Caribbean rain forests.
There are a number of varieties of cocoa beans. Nancy searches the world for organic criollo beans that account for less than
3% of all of the Cocoa Cultivation throughout the World; in addition to trinatario beans that are a hybrid of criollo beans and also rare.
AWARDS
SHERMAN OAKS- 2017 BEST IN THE FOOD AND BEVERAGE
SANTA BARBARA COUNTY- 2016 BEST IN THE FOOD & BEVERAGE
CALIFORNIA- 2015 BEST BESPOKE CHOCOLATIER
GRANDO CIOCCOLATO IS ARTISANALLY PRODUCED BY NANCY GRANDO , CIOCCOLATARIA - 45 N. SAN GABRIEL BLVD. PASADENA, CALIFORNIA.
(click here for more detailed information)
ORGANIC
FAIRTRADE
EQUAL OPPORTUNITY FARMS
NON-GMO
GLUTEN FREE
SOY-FREE DARK & MILK VEGAN CHOCOLATE
SUSTAINABLE PACKAGING
MANUFACTURED IN A FACILITY THAT HANDLES TREE NUTS, MILK AND SOY PRODUCTS.